We want to help shape a world where children, young adults and their families do not suffer poverty, develop healthy and can live in freedom. Therefore, the needs and desires of these persons are in the focus of all projects, which are needs-oriented and individually supported. Here are some recent examples of some finished as well as ongoing activites:
Sanitary facilities in Hammanskraal, South Africa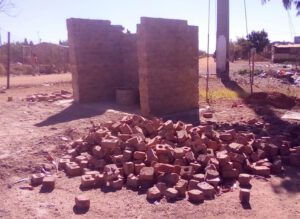 Sometimes things turn out differently than planned. When Theresa D. asked us at the end of her voluntary social year (August 2019) to financially support her farewell gift for the "After School Center" in the form of the construction of a playing field, we spontaneously agreed. A year later (August 2020) it has now become a double toilet. How it came about can be read here.

Water supply in Ikwotos, South Sudan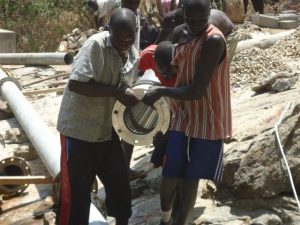 Assistance in the improvement of the water supply of several communities in Ikwotos, South Sudan by Caritas Switzerland. In total, four villages with around 2,000 households and around 15,000 people benefited from this project
From our side we provided the following assistance:
Support of Alfred T., who was commissioned by "Senior Expert Services" for the final assembly of the water supply for four villages, 2000 households and approximately 15,000 people.
"back office" for technical queries
Redesign of the malfunctioning water extraction pipe as an edge gap filter together with fellow experts, production of the filter from discarded spare parts
Organization of the transport chain for the edge-gap filter via Nairobi, Kenya to Ikwotos
Help for Sri Lanka West e. V.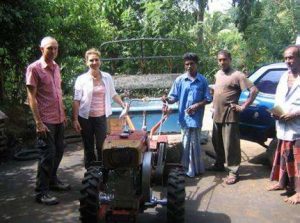 When Sri Lanka and its inhabitants were hit by the tsunami disaster in December 2004, two Palatine citizens, Juliane Rieder and Daniel Haken, spent their holidays on the spot. Shaken by what they experienced after this catastrophe and by what they had observed with the relief efforts of well-known aid organizations, they decided to found their own small non-profit organization and to manage their own help together with a local friend, living in Sri Lanka. Since May 2005 they are now with "Help for Sri Lanka e.V." tirelessly active. Their motto is: Small actions are more important than big intentions!
Further information is available directly from Juliane Rieder via e-mail to: jurieder@aol.com
Mushroom cultivation, Ashong, North-West Cameroon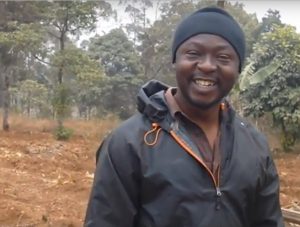 Almost exactly a year after Stefan G. had returned to Germany from his one-year social voluntary service in Cameroon in 2016, he left again for Cameroon – this time on his own responsibility.
His goal is to support now the non-governmental organization CDOP ("Community Development Outreach Program") with its own aid project. He got into close contact to CDOP already while he absolved his voluntary social year. Since CDOP has no income, the volunteers themselves have to finance most of the projects (such as the "tree nursery") and the materials needed. With an oyster mushroom breed and the sale of the mushrooms, the organization now wants to generate sustainable income itself. In addition to the sale of fresh and dried mushrooms trainings will be offered for those who want to start their own production. This fits in well into our concept of helping small entrepreneurs to build their own microbusiness.
Lung surgery of the little boy Mardoché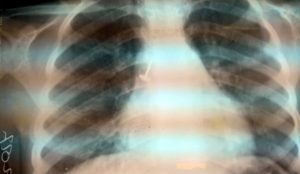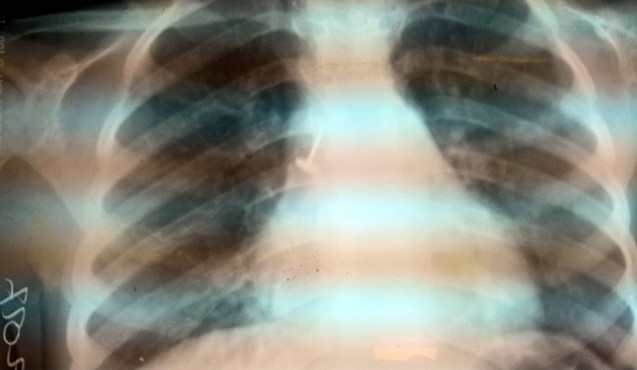 From the stays of Br. Werner in Vanga, sometimes spontaneous relief actions can result, as the lung operation of the little boy Mardoché shows. In the surgery a nail was removed in 2017, which Mardoché had swallowed while playing.
... and the little things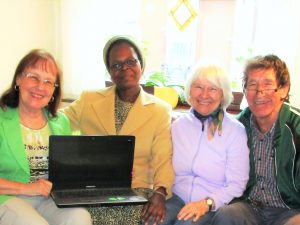 From the mail of a friend:
"Hello Frank,
Soon the laptop from your stocks will make its way to the Congo. In the attached picture you can see us with Sr. Emerence, who works in the direction of the Social Center in the Congolese Outback, which we have supported for years. I have installed a French OS and I hope she can understand it.
The ways of the Lord are amazing!
All the best and warm regards to your beloved ones.
Hubert"